Intralogistics
Intralogistics systems play an important role in the automated in-plant transport of materials in factories, distribution centers, parcel services, warehouses, airports, hospitals, and others. These systems increase efficiency, quality, sustainability, and traceability of material flow processes, while reducing waste and inventory buffers. Without them, modern high performance facilities could not function. Electrification components are needed for intralogistic equipment as  Automated Guided Vehicles ( AGV),  Electric Monorail Systems ( EMS), electric pallet conveyors, rail guided vehicles (RGV), transfer cars, and baggage handling systems, as well as sorters, automated storage and retrieval systems (AS/RS, stacker cranes) and shuttle systems.

Intralogistic systems must be available on demand. If part of the system goes down, processes before and after will stop and the entire facility could shut down. Also, any required maintenance must be done quickly and easily. Energy and  data transmission components must adapt to high performance systems, often with complex layouts and operating at high speeds and acceleration. At the same time, they must provide maximum energy efficiency at an acceptable cost. Some systems must meet special technical challenges, such as "clean room" and food processing environments, refrigerated storage, or impure production lines.
Conductix-Wampfler has extensive experience working with intralogistics system OEMs worldwide. From our large product portfolio, we can recommend the optimum solution for individual applications across many different industries without bias towards single technology. With our global presence and local support, we partner closely with OEMs and end-user customers for both small and large scale projects, striving for technical optimization with minimum complexity. Our continuous research & development efforts are geared towards new solutions and continuous improvements of products for this industry.


Inductive Power Transfer (IPT®) – powers systems such as  AGVs and baggage handling systems. New generations of  IPT with state-of-the-art features keep pace with our customers needs.

Conductor Rails – power  Electrified Monorail Systems ( EMS), Rail Guided Vehicles (RGV), and baggage handling systems. The 0832 Series " EcoClickLine" are ideal for  AS/RS stacker cranes. The recently introduced PEplus for  conductor rails works well for electric conveyors of all types, providing safety and simplicity.

Spring-Driven and  Motor-Driven Reels – manage  cables used to power  transfer cars and other moving equipment.

Energy Guiding Chains – manage  cables for all sorts of material handling equipment.

Rubber and Cellular Buffers – are well suited to absorbing energy from machine element impacts.
Uçak yapı malzemesinin [ omurga kiriş ] otomatik transfer aracı ile taşınması
Uygulama
Uçak yapı malzemesinin [ omurga kiriş ] otomatik transfer aracı ile taşınması

Ülke
Fransa

Şehir
Nantes

Temsilcilik Ofisi
Conductix-Wampfler [F]
Uygulayıcı
EADS / Airbus

Teknik şartlar
Otomatik transfer araçlarına güç transferi

Hat uzunluğu
220 m

Araç sayısı
1

Ek bilgiler [vehicle]
Ağırlık: 13 t
Yük kapasitesi: 35 t
Ürünler
IPT®(Temassız enerji transferi)
iDAT kılavuzu
Güç
9 kW transfer için
5,5 kW kaldırma gücü
spesifik özellikler
Aracın her iki yönde dikey hareketi
Çalışma hassasiyeti nominal transferde +/- 2 mm
Kaldırma operasyonu için durma pozisyonunda konumlandırma hassasiyeti +/- 1 mm
Kılavuz ve pozisyonlandırma
Her aksta 3 iDAT pickups akım alıcı ile
Relevant Products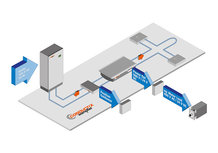 Temassız Enerji Transfer Sistemleri IPT® - Zemin
Additional information
Genellikle IPT® Zemin sistemlerinin temel işlevi diğer IPT ® sistemleri ile aynıdır. Ama dikkat etmeniz gereken bazı ek ya da belirli yönler de vardır.
Kablo döngüsü tüm kat edilen yol boyunca tedarik edilen araçların tam kapsama alanında sağlanacak şekilde monte edilmelidir. Bu şekilde kablo yönlendirme aynı zamanda araçların İlerleme edecekleri yolu da tanımlamaktadır. iDAT ile kablolama etrafındaki manyetik alanı tespit etmek ve aracın kontrol edilmesi için bir kılavuz sinyal temin etmek ve böylece aracın hareketini kontrol etmek mümkündür. İstenmeyen ve pahalı kılavuz yuvaları bu şekilde kullanımdan düşmüş olur. Çeşitli İlerleme yolları tanımlanabilir. Anahtarlar, geçişleri, vb hiç sorun değildir. Çekişin sadece yeterli bir şekilde, manyetik alana maruz kalacak şekilde yerleştirilmesi gerekmektedir.
Downloads