Ports
Throughout recorded history, cargo ports have played a vital role in the development of economies and countries. The importing and exporting of many types of goods are handled by countless port facilities around the globe, from small river ports to specialized sea ports that handle bulk materials, break bulk, special cargo, Ro-Ro (roll-on/roll-off) or containers. Depending on the type of goods handled by a given port, dedicated material handling machines such as cranes, loaders, and  unloaders efficiently manage  logistics within the port's operations. Often operating 24 / 7 / 365, this equipment needs to be extremely reliable and able to operate in very harsh environments. Increasing global trade has driven ever increasing demands for faster, more reliable, and better performing port equipment components. Energy and data transmission systems play a crucial role in providing safe, reliable, and efficient port operations. Due to increasing requirements for "green" ports and environmental friendly handling facilities, operators will continue to convert combustion engines to electric drives. In addition, more and more ports are providing shore power for docked vessels to further reduce emissions.
STS konteyner vinci enerji ve very iletimi (çelik halat kablo taşıma arabası)
Uygulama
STS konteyner vinci enerji ve very iletimi (çelik halat kablo taşıma arabası)

Uygulayıcı / Müşteri
YICT Port Terminal (Shenzen, Çin)

Ürünler
Bara sistemi, Program 0813 ve Powertrans 1b

Bara uzunluğu
Bom dahil 102 metre
Ek bilgiler
enerji beslemesi için 4/5 kutup 0813 / 500 A
Kaçak akım için 2 kutup 0813 / 500 A
Powertrans very iletimi (PLC) ile 2 kutup 0813 Profibus DP
Relevant Products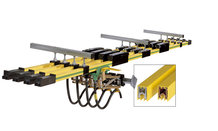 Single PowerLine 0813
Additional information
Düz güzergahlar için tercih edilen tek kutuplu İletken raylar
Özellikler
Dayanıklı yapısıyla ve kullanılan özel iletim maddeleri ile en zorlu sanayi koşullarında verimli kullanılabilirlik
Kutupların izole edilmesi sayesinde insan ve makineler için yüksek düzeyde güvenlik
Çoklu askı kelepçeleri ile kolay ve tam monte etme (3, 4 ve 5 kutup)
Kompleks uygulamalar için de dahil olmak üzere sınırsız kutup sayısı
Eğriler için yarıçap segmentleri mevcuttur
Ana uygulamalar
Süreci ve EOT vinçleri
İnsan Taşıyıcı
Konteyner Vinci
Product data
Standart uygulama verileri
[A] (100% görev döngüsünde) Anma Akımı: 500 | 800 | 1.000 | 1.250
Gerilim Sınıfı [V]: 690
Ray Uzunluğu [mm]: 5.000 [16.40 ft]
Dış-Boyutlar (Pol) [mm]: 32,0 x 42,0 [1.26 "x 1.65"]
Çalışma Şartları: iç ortam ve hava korumalı dış mekan uygulamaları için
Hat Konfigürasyonu: tercihen mevcut olan doğrusal güzergah/viraj parçaları için
Downloads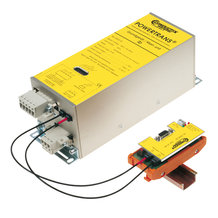 Powertrans® - Ib
Additional information
Powertrans®-otomatik prosesler, mobil raylarla yönlendirilen konveyör için kablo tabanlı bir veri yolu-teknolojisidir. Wampfler Powertrans ® sistemi
iletken raylı
Çekiş
kabloları

aracılığıyla, bir endüstriyel ortamda, mükemmel bir dijital veri iletimi sağlarlar.
Ana uygulamalar
Depolama ve geri alma
Vinçler
Konveyörlerdir
Product data
Standart uygulama verileri
Güç Kaynağı 115/230 V AC 50-60 Hz
Güç tüketimi [VA]: tip. 50, stand-by 9
Çıkış gerilimi [V]: + / - 70
Modu: yarım / tam duplex
Koruma sınıfı: IP 20, IP 40 (ve IP 65)
Ortam sıcaklığı [° C]: 0-50
Boyutlar [mm]: 272 x 100 x 100
Ağırlık [kg]: 3,2
Arayüz
Güç kaynağı [V]: AC / DC 24
Güç tüketimi [VA]: 3
Boyutlar [mm]: 109 x 50 x 50
Ağırlık [kg]:0,15
Downloads