LASSTEC - Container Weighing System
The Twistlock Load Sensing & Operational Safety System is designed to measure the load in each twistlock of single- and twinlift spreaders.
Additional information
Each sensor measures the load of a twistlock which is then sent into a central data processing unit from where the information is sent to the crane PLC and to the TOS.
The system also provides various signals to improve operational safeties and it allows to monitor twistlock and spreader life cycles.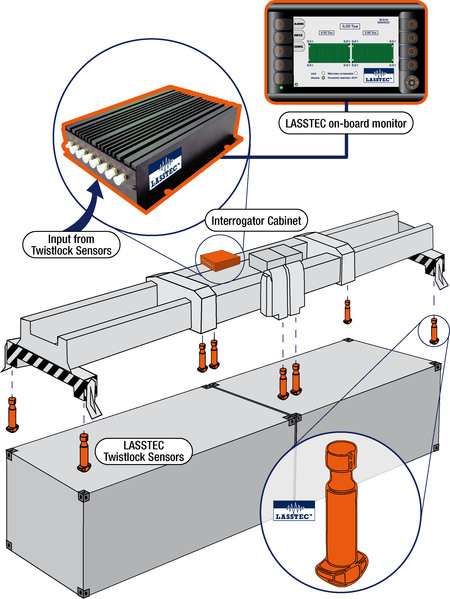 Use the LASSTEC - Twistlock Load Sensing / Container Weighing & Operational Safety System to ...
Measure exact container weights in single and twinlift modes without interrupting the load cycle of the crane.
Determine load eccentricity of single-, twinlift and Mobile Harbour Crane applications.
Ensure all twistlocks are engaged when lifting a container.
Prevent hoisting if one or more container corners are still locked to the stack on the vessel.
Detect snag loads immediately.
Detect and prevent accidental lifting of a road trailer still connected to a container in stacking yard applications.
Monitor and record twistlock load cycles to optimize replacement intervals.
Provide spreader and crane life cycle management and track overload situations.
Product data
Features & Specifications
The container weighing system can be integrated into new and existing installations without modifying the spreaders.
The sensor is inserted into a small hole drilled into the center of the twistlock. The hole is so small that it does not affect the structure of the twistlock.
The sensors are totally insensitive to repetitive shock loads, vibrations, EMI, humidity and they resist very high overloads.
Major spreader makers endorse the system and provide their twistlocks with the holes drilled.
The data is processed on the spreader and sent through the spreader communication channel or sent parallel to the crane PLC and to the TOS.
Monitors in the crane cabin can be added on an optional basis.
No re-calibration is required throughout the life of the sensors.
The sensors can be installed into the twistlocks by the customers.
The container weighing system meets the new IMO (International Maritime Organization) requirements.
Technical Data
Max. capacity reading per twistlock: 100'000 kg
Load sampling rate per twistlock: 50 Hz
Accuracy per twistlock: ± 200 kg at F.S.
Interrogator Output Signals:
   - CANopen DS301
   - RS485 with Modbus protocol
   - Profibus Module (optional)
Interrogator Output Data:
   - Date and Time, container size
   - Load of each twistlock, Total load (Real time weight)
   - Stabilized container weight
   - Load eccentricity (in x- and y-axis)
   - Peak load for each twistlock when lifting container, Total peak load
Alarm Data: Consult Conductix-Wampfler
Interrogator power source: 24 V DC, 1 A (min 22.5 V DC/max. 28.5 V DC)
Interrogator protection: IP55
Interrogator operating temperature range: -30 °C to +60 °C
Interrogator Humidity resistance: Max 90% at 40 °C without condensation
Interrogator shock & vibration resistance: According to IEC 60068-2-6
Interrogator EMC resistance:
   - EN 61000-6-2, EN 61000-6-3
   - EN 61000-4-2, DIN 40839-T1
Functionality indications with built-in LEDs:
   - Power On/Off
   - State of Interrogator functioning
Menu driven software and PC Interface: RS232 for calibration and Interrogator diagnostic
Interrogator weight: 2 kg
Signals required from the spreader:
   - Twistlocks locked
   - Twistlocks unlocked
   - Spreader in 20, 30, 40 and 45 ft positions
   - Spreader in Twinlift mode
Downloads